Cranberry Pecan Pie Recipe for The Holidays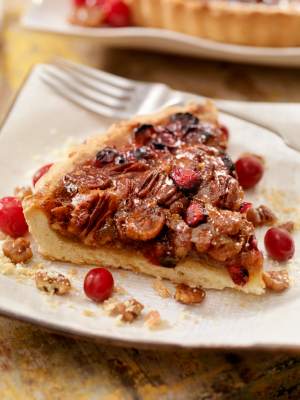 There is nothing quite like a delicious pie to top off the perfect Thanksgiving meal. Maybe you are a fan of pecan pie? If so, try adding a little oomph to your next holiday pie menu by whipping up a delicious cranberry pecan pie. The semi-tart cranberries and the sweet pecans create a perfect and scrumptious balance of flavors.
Wow your holiday guests with this pie!
To start you will need:
-1 cup cranberries
-1 cup halved pecans
-3 eggs
-1 deep dish pie crust
-1 cup packed brown sugar
-1/4 cup water
-2/3 cup of white sugar
-6 tablespoons unsalted butter (melted)
-1 teaspoon of vanilla extract
-1/4 teaspoon of ground cinnamon
-1/8 teaspoon of salt
Now for the fun part!
Preheat your oven to 350 degrees, then begin chopping your cranberries!
The first time I tried making this pie I only chopped the cranberries in half and it turned out way too tart for my (or anyone else's) liking. The last time I made this pie I put the cranberries into my Magic Bullet, and it turned out perfect! Of course, any food processor will work, or just have the patience to chop all those cranberries finely by hand!
Lay out your pie crust in the bottom of the pie pan and spread the finely chopped cranberries along the bottom.
Next, we will beat the eggs in a large bowl until they reach a frothy consistency, then it's time to start adding your other ingredients!
Add the brown and white sugar, water, melted butter, vanilla, cinnamon, and salt, and stir, stir, stir!
Pour this mixture over the cranberries and gently place your pecan halves in a neat pattern atop the whole mixture. Make sure you cover as much of the surface of the pie with pecans as possible. You don't want any guests complaining they didn't get enough pecans!
Then just set your pie in your preheated oven and let it bake for about 45 minutes. Do a toothpick test if you're unsure whether it is done or not.
Let your pie sit to cool, and there you have it! The perfect Thanksgiving pie.
Thanks for visiting Jenny's Home Improvement!
Article Contributed by Shelby Andrews