Create Your Space with Color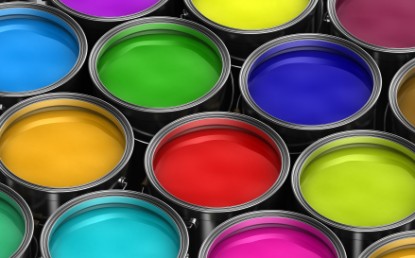 Paint color is one of the most important design elements in your home's décor; it not only sets the tone and the mood of your environment but it also ties together all the design elements that bring a living space together.
Your color choice can make a big impact on how a room looks and feels so this is not only important to your design but must be considered carefully because you'll be living with it on a day to day basis.
If you find it difficult to commit to a color, some things to think about when choosing would be– what's the purpose of the room you are painting? For example, your family room; would you want this room to be a quiet restful place to unwind or is this room the entertainment center of your home?  Remember this question especially when choosing paint color for the bedrooms.
Think about what your own personal color preferences are, along with whom you share the space with.  What colors are you naturally drawn to?  Neutrals, cool tones or maybe you like warmer palettes.
Neutrals can evoke a mood of simplicity along with sophistication and can be a great base for pretty much all styles.  You can add spots of color that could be easily swapped out later.
Warm colors make a room feel more intimate and cozy while a cooler palette can be calming and open up a space.  And bright colors will add an element of energy to the room.
To help you narrow your choices you could collect images from magazine and or websites. Pick pages that you are naturally drawn to, think about how you react to them emotionally and then use these pieces as inspiration.  However, be realistic when envisioning your space; consider the size of the space and lighting.  How will your furniture work with the color you've chosen?
Once you've narrowed your choices down, head to the paint design center and bring home color chips and or buy a sample size paint can and try the color(s) on the wall.  You'll be surprised at how different the paint will look at home versus how you originally saw it in the store.  If you're still not sure then live with the color sample on your wall for a couple of days and then make your decision.  One thing to note; the lighting and surrounding furnishings will actually make the color appear slightly different as well as it changing throughout the day dependent upon the lighting.  For instance; direct sunlight will make the color look lighter while artificial and different types of lighting can change the tone of the color all together.
Finishes:
After you've made your color choice, now you must decide on the finish.  Typically you would choose a flat or matte finish for the living areas with trims such as baseboards, crown moldings, door and window frames being finished with a satin or semi gloss paint to emphasize and accent with sheen.  Rooms that can have moisture such as the bathroom and kitchen should be painted with a finish that's a bit more durable than a flat paint.  Semi gloss or satin finishes are the preferred choice as they can hold up to moisture as well as be wiped down and withstand a bit more wear.   High traffic areas and or kids room would be good rooms for eggshell or satin finish paints as well.
Again, paint and color is important to your overall design and feel of the space.  Don't be afraid to try something new, it's a fun and exciting way to be creative.  And… it's just paint, if you end up not liking it – you can always paint over it.
Thanks for visiting Jenny's Home Improvement!