HGTV And ME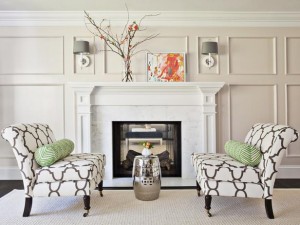 It's 1994, I am officially retired from my Airline career. I have chosen instead to become a full time "Stay at Home Mom" to my 2 little children and my family is living in our very first purchased home.  I've always had a passion for making a room pretty and at that time with an entire new home to design and decorate; I found myself to be in a pretty good place.
HGTV launches their channel on television that same year and it had become a vehicle of inspiration as well as educating me on every aspect of home ownership.  If you were to walk into my home during those early years, you would either be viewing a big purple dinosaur named "Barney" or a home designing, gardening, or do it yourself program via  the Home and Garden Television Network.  Over the years I have become a self taught Devotee of home design and improvement and I have those programs to thank for a lot of it.
My world has evolved quite a bit since then.  I am now a mother of 4 children, none of which are small any more, in fact those 2 little children back then are now grown and in college. I own my own business with the support of my entrepreneur husband and we now have constant access to the internet with HGTV at my fingertips.  To this day, it is still one of my favorite past times to be inspired by all that HGTV has to offer.  With that in mind, I would like to share some inspiration from the "Designers Portfolio" from HGTV.com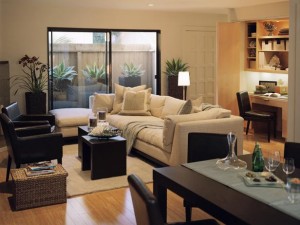 I love how this designer took a not so appealing view and made it interesting visually by adding an artistic display of modern plantings and flanking the window with assymetrical interest.  This is a good example of what was potentially and eyesore or not so usable area and making it work.   The designer creating this work station in the nook not only saves space in what appears to be a space limited room but contains and organizes.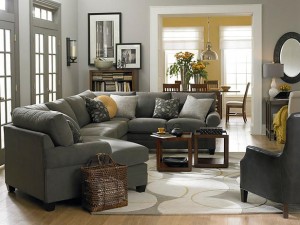 I love the combination of yellow and gray,  here's a good example of a neutral gray room adding spots of yellow to add visual interest but better yet, it lends ease of  transition into the dining room which happens to have yellow walls.  The cross pollination of colors make these two living spaces cohesive.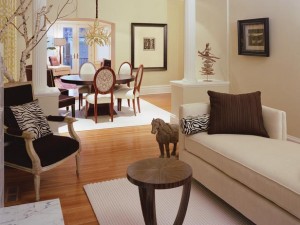 The contrast of light and dark with buttery walls as a backdrop to natural pieces of art and the blend of different woods make this elegant living space. I especially like the definition of spaces the half wall and columns create while still staying in line to the open floorplan.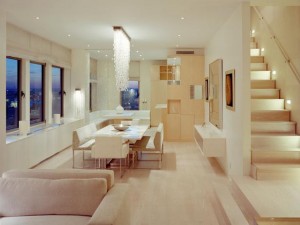 This living space was created as a tranquil refuge to the hustle and bustle and hectic everyday work life that is New York City.  How lucky for the tenants to have this dreamy space to come home and escape to.
I hope you've enjoyed and perhaps been inspired by these creative living spaces.
Thanks for visiting Jenny's Home Improvement!