Top Five Outdoor Living Trends for 2013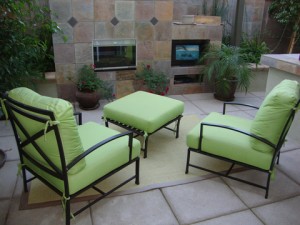 Now more than ever, homeowners are expanding their living space to include the outdoors. Having an outdoor living area can make the warm summer months more enjoyable, allowing you to cook, socialize or even watch television programs while outdoors. And in colder weather, outdoor living areas can provide extra space and comfort, all you need is a fire pit or heater to enjoy it.
Below are a few popular ideas and things that homeowners are adding to their own living spaces.
1. Setting the Scene with Outdoor Lighting
If you want to enjoy your outdoor space, it's important to design an inviting lighting concept. Landscape lights that line walkways are popular this year, as well as ambient lighting around the corners of your porch or deck. Having a properly lit backyard will not only create a fun and friendly atmosphere, but it will also help you and your guests move around safely during evening gatherings.
2. Invest in a Good Grill
If you plan on doing backyard entertaining, you will need to invest in a good grill. This year, installing built-in grilling islands was a popular trend, thanks to their cool look and convenience. If you can't afford to install a built-in version, consider going for a free-standing charcoal grill.
3. Enjoy Some Outdoor Entertainment
One thing that may be missing from your outdoor area is entertainment. By setting up an outdoor stereo and television system, you will be able to comfortably enjoy the outdoors while still taking in your favorite sporting events, television shows and music.
4. Stay Cozy with a Fire Pit
No outdoor living area would be complete without a fire pit to keep you and your loved ones warm during the cooler months. A built-in fire pit made of brick or stone works excellently and there is also the option of a portable pit made from iron, steel or copper, depending on the look and feel you want. If you don't feel comfortable lighting an actual fire, a good outdoor heater will keep you just as cozy.
5. Cook in an Outdoor Kitchen
Nothing is more relaxing than cooking up a delicious dinner for you and your friends in an outdoor kitchen. Along with a nice grill, having a counter, refrigerator and sink in your outdoor living area will offer convenience and fun, allowing you to remain outdoors with your guests as you are cooking. Compare that to being stuck inside while everyone else is socializing in the backyard, and you will see why installing an outdoor kitchen was one of the biggest outdoor remodeling trends in 2013.
If you haven't already, add some comforts to your own backyard and enjoy!  Thanks for visiting Jennys Home Improvement!