Bathroom Updates That Personalize and Add Value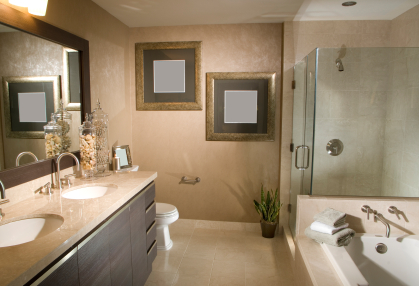 Every year homeowners will spend on average 16,000 to 20,000 dollars on a simple bathroom renovation and up to 50,000 on a more upscale remodel.  Thankfully, there are less expensive options. Rather than doing a complete remodel that could cost thousands, you can make a few changes that would give the bathroom an entirely new look while adding value to your home.  Below are just a few examples of how you can personalize and  update your bathroom without breaking your bank.
Cabinetry:  A big cost when remodeling the bathroom is the cabinetry.  Instead of replacing the old cabinetry, a reface can lend a new look while shaving down cost and time. Also think about the details.  Replacing the hardware on drawers and doors is also a great way to update the look and style of the cabinetry.
Hardware:  A new shower head, faucet, and towel bars are a great way to bring in the new.  Don't feel bad about splurging here; it's the details that can really bump up the design and feel of the bathroom.  Don't forget to think about how these pieces look, making sure to keep within a cohesive style to tie everything together.
Sinks:  can be simple to luxurious.  No longer are the days where you have only a few styles and colors to choose from.   Bringing in a new sink style is a great way to update the bathroom.
Flooring:  Generally, the bathroom is one of the smallest rooms in the home. Because of this, it doesn't take a lot to replace. Keep in mind that you will want to go with something that will do well when wet. Tile is usually the most reasonable answer and since the square footage is not too much, the floor is a great place to splurge and really bump up the value.
Another item to think about is the lighting, for instance, just replacing the overhead light with something more stylish and or adding a pair of sconces on either side of the vanity mirror or medicine cabinet will bring in a sense of design and style.
Whichever updates you choose, keep in mind, bathrooms should feel like a private escape; a serene sanctuary where you start and end your day.
Thanks for visiting Jennys Home Improvement.